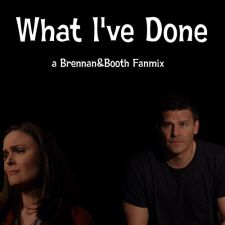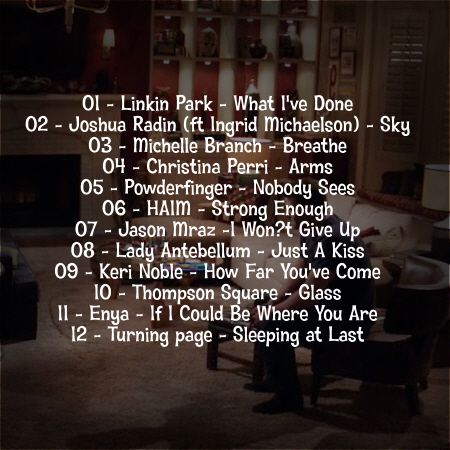 01 Linkin Park -
What I've Done
In this farewell
There's no blood
There's no alibi
'Cause I've drawn regret
From the truth
Of a thousand lies
So let mercy come
And wash away
What I've done
02 Joshua Radin (ft Ingrid Michaelson) -
Sky
I woke dreaming we had broke
Dreaming you left me for someone new
And you cried
Drying those brown eyes
Crying you're sorry
Sorry won't do
03 Michelle Branch -
Breathe
So just give me one good reason
Tell me why I should stay
'Cause I dont wanna waste another moment
in saying things we never meant to say
04 Christina Perri -
Arms
I never thought that you would be the one to hold my heart
But you came around and you knocked me off the ground from the start
You put your arms around me
And I believe that it's easier for you to let me go
You put your arms around me and I'm home
05 Powderfinger -
Nobody Sees
Who's gonna pick you up?
Who's gonna bend your rules?
Who's gonna be your prop?
Who's gonna play your fool?
Nobody know just how it feels today
Nobody sees how our hearts break
06 HAIM -
Strong Enough
Nothing's true and nothing's right
So let me be alone tonight
Cause you can't change the way I am
Are you strong enough to be my man?
07 Jason Mraz -
I Won't Give Up
Well, I won't give up on us
Even if the skies get rough
I'm giving you all my love
I'm still looking up
And when you're needing your space
To do some navigating
I'll be here patiently waiting
To see what you find
08 Lady Antebellum -
Just A Kiss
Lyin' here with you so close to me
It's hard to fight these feelings when it feels so hard to breathe
Caught up in this moment
Caught up in your smile
I've never opened up to anyone
So hard to hold back when I'm holding you in my arms
We don't need to rush this
Let's just take it slow
09 Keri Noble -
How Far You've Come
Close your eyes, take a breath
Don't let yourself forget
You are strong
Look how far you've come
Pick yourself off the floor
You know you still got more
You are strong
Look at how far you've come
10 Thompson Square -
Glass
Trying to live and love,
With a heart that can't be broken,
Is like trying to see the light with eyes that can't be opened.
Yeah, we both carry baggage,
We picked up on our way, so if you love me do it gently,
And I will do the same.
11 Enya -
If I Could Be Where You Are
Where are you this moment?
Only in my dreams.
You're missing, but you're always
A heartbeat from me.
I'm lost now without you,
I don't know where you are.
I keep watching, I keep hoping,
But time keeps us apart
12 Turning page -
Sleeping at Last
I've waited a hundred years
But I'd wait a million more for you
Nothing prepared me for
What the privilege of being yours would do
If I had only felt the warmth within your touch
If I had only seen how you smile when you blush
Or how you curl your lip when you concentrate enough
Well I would have known
What I was living for all along
What I've been living for
You can download the whole album artwork included
here
This fanmix is based upon Brennan and Booth's relationship during season 7&8 including the season final of season 8 where we ended with our hearts crushed.
Let me know what you think do these songs speak to you in the same way as they do me?
Current Mood:

tired