I have chosen a song for each season and I will exsplain why I chose that song.
Cover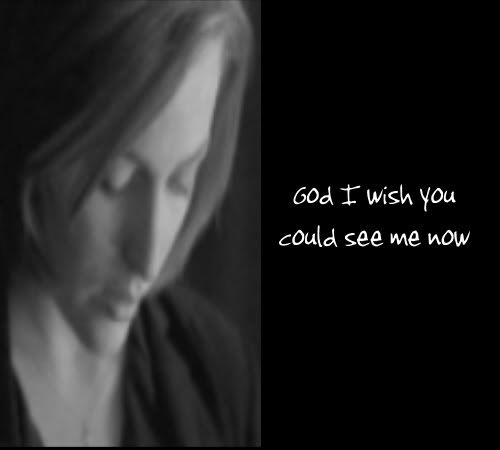 Back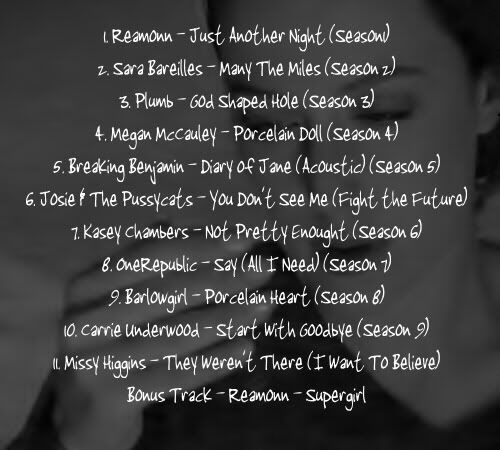 Reamonn - Just Another Night
She wakes up cold
Reaching for his arms
But there's no one there

She feels so old
She falls apart
As she fights back tears

And then she curls up small
And feels like she's alone here in Hell
And then she starts to scream
This first song spoke to me with the opening lyrics and just made me think about how Scully was so alone in season 1
Sara Bareilles - Many The Miles
There's too many things that I haven't done yet
Too many sunsets
I haven't seen
You can't waste the day wishing it'd slow down
You would have thought by now
I'd have learned something
I made up my mind when I was a young girl
I've been given this one world
I won't worry it away
But now and again I lose sight of the good life
I get stuck in a low light
This song reminded me so much of Scully's return in season 2 and how she wanted to get on with things.
Plumb - God Shaped Hole
You can say that love is not divine and
You can say that life is not eternal
"All we have is know"
But I don't believe it

There's a God-shaped hole in all of us
And the restless soul is searching
There's a God-shaped hole in all of us
And it's a void only he can fill
This song reminds me of how Scully was begining to lose her faith in God she was struggeling with it all.
Megan McCauley - Porcelain Doll
Why do they leave me all by myself?
Why do they use me and bring me down?
Why do they hurt me?
Why do they leave me?
Why doesn't anybody stick around?

Why doesn't anyone stay here?
Why do they leave me?
Don't they realize I'm a porcelain doll?
Small, unsure, beautiful
Breakable.
This really made me feel how I imagiend Scully felt with her Cancer that she was breakable but that she couldn't show it.
Breaking Benjamin - The Diary of Jane (Acoustic)
If I had to
I would put myself right beside you
so let me ask
would you like that?
would you like that?

and I don't mind
if you say this love is the last time
so now I'll ask
do you like that?
do you like that?
This whole song reminded me so much of season 5 with Scully's to & fro with Mulder during that season.
Josie & The Pussycats - You Don't See Me
This is the place where I sit
This is the part where
I love you too much
Is this as hard as it gets?
'Cause I'm getting tired
Of pretending I'm tough
I'm here if you want me
I'm yours, you can hold me
I'm empty and taken and
Tumbling and breakin'
'Cause you don't see me
And you don't need me
And you don't love me
The way I wish you would
The way I know you could
This song reminded me so much of what I imagened Scully felt with The X Files being closed and the return of Diana and her unknowingness with Mulder
Kasey Chambers - Not Pretty Enough
Am I not pretty enough
Is my heart to broken
Do I cry too much
Am I too outspoken
Don't I make you laugh
Should I try it harder
Why do you see right through me

I live, I breathe, I let it rain on me
I sleep, I wake, I try hard not to break
I crave, I love, I've waited long enough
I try as hard as I can
This song really made me think like Scully during season 6 with Mulder's continued relationship with Diana Fowley and him pushing her away during the early part of the season
OneRepublic - Say (All I Need)
Do you know where your heart is?
Do you think you can find it?
Or did you trade it for something
Somewhere better just to have it?
Do you know where your love is?
Do you think that you lost it?
You felt it so strong, but
Nothing's turned out how you wanted

Well, bless my soul
You're a lonely soul
Cause you won't let go
Of anything you hold
This made me think of season 7 and Scully's struggle with Mulder and their feeling for one another
Barlowgirl - Porcelain Heart
Broken heart
One more time
Pick yourself up
Why even cry
Broken pieces in your hands
Wonder how you'll make it whole
This really fitted for season 8 and Scully's struggles with her pregnancy and Mulder's 'death'
Carrie Underwood - Starts with Goodbye
I was sitting on my doorstep,
I hung up the phone and it fell out of my hand,
But I knew I had to do it,
And he wouldn't understand,
So hard to see myself without him,
I felt a piece of my heart break,
But when you're standing at a crossroad,
There's a choice you gotta make.
This made me think of 3 things in season 9 first was Scully letting Mulder leave at the begining of the season the second was Scully giving William up and third was the end of the seris when she learned of Mulder's soon to be death.
Missy Higgins - They Weren't There
You breathed infinity into my world
and time was lost up in a cloud and in a whirl.
We dug a hole in the cool grey earth and lay there for the night.
Then you said, "wait for me we'll fly the wind,
we'll grow old and you'll be stronger without him" but oh,
now my world is at your feet. I was lost and I was found,
but I was alive and now I've drowned.
So now I will be waiting for the world to hear my song
so they can tell me I was wrong...

But they weren't there beneath your stare,
and they weren't stripped 'till they were bare of
any bindings from the world outside that room.
And they weren't taken by the hand
and led through fields of naked land
where any pre-conceived ideas were blown away...
so I couldn't say "no".
This song reminds me so much of the conflicts that Scully felt during the film and it's just heart breaking
Click here to download the zip file from Megaupload
Click here to download the zip file from sendspace
Click here to download individual songs from Sendspace
Click here to download the zip file from mediafire
Click here to download individual songs from Mediafire
Okay so I said I was done making fanmixes well I was wrong I forgot I had started on a mix for Scully. I must warn you that it is very angsy and depressing at times too.