Hope you will like it I'll also explain why I choose the songs I've picked.
Cover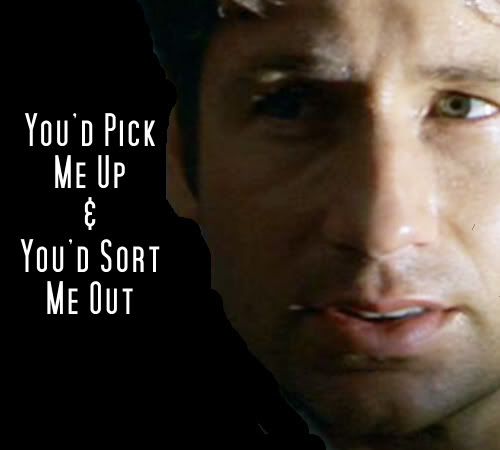 Backcover & Tracklist
1. Monkees - I'm A Believer
I chose this song because it spoke to me about Mulder's passion for the x files and his developing feeling for Scully also his openness to 'Believe'
2. Darren Hayes - Lost Without You
This song spoke to me of Mulder's lonelyness and despair with Scully missing as well as them no longer being partners at the begining of the season of how he's lost without her in his life.
3. Depeche Mode - A Pain That I'm Used To
This speaks to me of Mulder questioning some of the things he thought he believed about his sister's abduction as well as being dragged further into the conspiracy.
4. Skillet - Come My Way
This song was chosen bacause it spoke to me of Mulder trying to come to terms with Scully's cancer and possible death of wanting to be closer to her but having Scully pull away.
5. The Kin - Rise & Fall
This song reminded me of Mulder questioning his beliefs about alien abductions, and his growing feelings for Scully. This also touches on Scully's near death at the begining of the season and the actual death of the X Files office at the end of the season - basically his whole world being turned upside sown.
6. Anthony Stewart Head - We Can Work It Out
This song to me speaks of Mulder wanting to keep Scully from leaving, that he can't do it alone without her, that they have to work it out to stop IBTB from winning if either of them quit
7. 3 Doors Down - Your Arms Feel Like Home
This songs is about Mulder's growing feelings for Scully that he can longer deny - he knows that where ever he goes as long as Scully is with him he's home.
8. Anna Nalick - In My Head
This song made me think of how Mulder knows that Scully loves him due to his little mind reading ability he gained. It's about how he wants to be with Scully now he's free to be with her and them ending up together no longer alone at night.
9. Megan McCauley - Reverie
This song I chose longe before I made the mix it's what kicked it off for me. This song is about Mulder not knowing where he stands since his abduction/death not knowing where he stands with Scully, pushing her away and being possesive of the x files. It's about him dealing with it all to try and get back to how things where before his dissaperance.
10. Barlowgirl - Thoughts of You
This song to me is about Mulder thinking of Scully knowing he has to leave and can't come back but wanting to be with her. It's about the months apart and the email he send in 'Trust No 1' to Scully and then finally getting to see her and still being in love with her and vice versa
11. Bon Jovi - Always.
The moment I heard this song I knew where it had to go and and that was here. This song reminds me so much of Mulder's thoughts after Scully tells him that she's not coming home, about how empty he is without her and how he needs her. Thinking of the 16 years they have been together and all the memories he has of them. That if Scully were not to come back he wouldn't move on he would die alone with thoughts of her.
Click here to download the zip folder from Megaupload
Click here to download the zip folder from Sendspace
Click here to download indivdual songs from sendspace
Click here to download the zip folder from Mediafire
Click here to download individual songs from Mediafire
This is a companion to my Scully Mix 'God I Wish You Could See Me Now'. This is a Mulder Mix called 'You's Pick Me Up & You'd Sort Me Out'.