Here is what you need
3 cups (1 1/2 mugs) of all purpose flour
1 1/2 cups (2/3 mug) of unsweetened cocoa powder
2 cups (1 mug) of sugar (or canderelle/spendid)
2 teaspoons of baking soda (bicarbinate of soda)
1/2 cup (1/3 mug) of vegetable oil (or extra virgin oil)
3 teaspoons of vanilla extract
2 cups (1 mug) of water
2 tablespoons of white vinegar
Sieve the flour, cocoa powder, sugar and baking power into a large mixing bowl add the vanilla extract into the mixture add the water and stir. Add the oil and stir again then add in the vinegar and mix well until smooth paste.
Heat the oven to 180 degrees C (350F) whilst oven heats place mixture into baking cases until 2/3 full (approx 2 teaspoons) place in the oven and book for 20 minutes take out and leave to cool where you can place icing on top if you wish.
This is what they look like un-iced
After icing
And here is my very first batch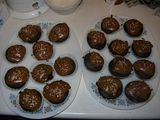 I found this amazing recipe for cupcakes that is easier to make than ordinary cupcakes and for many of the people who read my journal this is vegan/vegetarian friendly too.