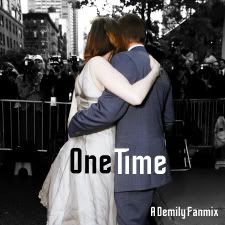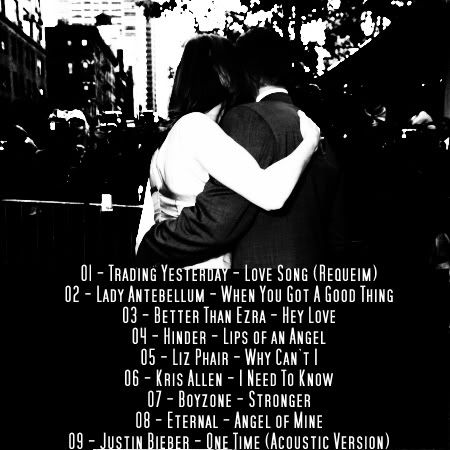 01 - Trading Yesterday - Love Song (Requeim)
Emily will find a better place to fall asleep
She belongs to fairy tales that I could never be
The future haunts with memories that I could never have
And hope is just a stranger wondering how it got so bad
02 - Lady Antebellum - When You Got A Good Thing
Everybody keeps telling me I'm such a lucky man,
Looking at you standing there I know I am.
Barefooted beauty with eyes that blue, sunshine sure looks good on you, I swear.
Oh I can't believe I finally found ya baby,
Happy ever after after all this time.
Oh there's gonna be some ups and downs,
But with you to wrap my arms around, I'm fine
03 - Better Than Ezra - Hey Love
I haven't felt you for a while
I haven't had much opportunity to smile
I see you in the eyes of couples passing by
As soulmates kiss, the innocence,
Too long I've been denied.
04 - Hinder - Lips of an Angel
Honey, why you callin me so late?
It's kinda hard to talk right now
Honey, why you cryin'?
Is everything ok?
I gotta whisper cause I can't be too loud
Well my girl's in the next room
Sometimes I wish she was you
I guess we never really moved on
05 - Liz Phair - Why Can't I?
Walkin' down the street
And I hardly know you
It's just like we were meant to be
Holding hands with you
And we're out at night
Got a girlfriend
You say it isn't right
And I've got someone waiting too
This is, this is just the beginning
06 - Kris Allen - I Need To Know
Life's been blinding me
From what I thought I'd see
Is there clarity in this insanity? (yeah)
Whats she want from me? (yeah)
Roads in front of me
Taking me astray
Are you leaving me?
Or are you leading the way?
Can you hear what I'm sayin'?
07 - Boyzone - Stronger
Running out of options
Running out of time
Running out of easy ways of things to say
Nothing left but goodbye
Baby please forgive me
If I act so surprised
I thought that we were stronger than that
I thought that we were stronger than that
I though that we would fight it a little harder than we did
To find a way to just keep hanging on
I can't believe it's gone
08 - Eternal - Angel of Mine
When I first saw you I already knew
There was something inside of you
Something I thought I'd never find
Angel of mine
I look at you (looking at you) looking at me
Now I know why they say the best things are free
Gonna love you 'til the end of time
09 - Justin Bieber - One Time (Acoustic Version)
When I met you girl my heart went knock knock
Now them butterflies in my stomach wont stop stop
And even though its a struggle love is all we got
So we gon' keep keep climbin' till the mountain top
Zip Files
Sendspace or Megaupload
Current Mood:

lethargic