Blueberry Banana Muffins
Which I have made many a time it's actually a family favourite. They have done so many different recipes now and it's constantly growning as they had more and more recipes that they have veganised. You can find them all
Here
.
They are also after testers for their project and I took up the challenge of their
Peanut Butter Cookies
I made my first batch following their recipe to the T but I personally found the recipe too sweet for my own taste so I decided to tweek the recipe by reducing the amount of sugar used when I doubled the recipe as my first batch lasted about 2 seconds after they cooled down as one of my brothers practically inhaled them all.
So here is my take on Meet The Shannons Betty Crocker inspired Peanut Butter Cookies.
150g Soft Brown Sugar
150g Soft Vegan Marg
150g Crunchy Peanut Butter (you can use smooth if you like)
200g Wholemeal Flour
80g Soya Flour (you don't need to use soya flour. If you don't just add 80g of Wholemeal flour)
1 teaspoon of Baking Powder
1 1/2 teaspoons of Bicarbonate Soda (Baking Soda)
150g - 200g of Vegan Chocolate Chips
2 eggs of Egg Replacer (Ener-G Egg Replacer)
Mix with handmixer the Sugar, Marg, Peanut Butter and Egg Replacer. Once mixed add about half of the flour along with the Baking Power and Bicarbonate Soda (Baking Soda) and mix again then mix in the other half of the flour.
Once mixed fold in the chocolate chips and mix well.
Put your oven on to pre-heat at 180 degrees C (350 degree F). Whilst oven is heating make melon balls of the mixture and place on greaseproof pan (You'll need 3 pans or you can cook 3 lots one after the other). Place the tray in the oven for 10 minutes.
Once cooked remove from oven and place on cooling racks for approx 5 minutes then either plate them or put them in a tub with greaseproof paper. Eat and enjoy =)
Here's a photo of what they should (hopefully) look like.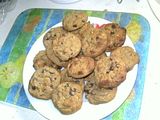 I discovered this amazing project that Annie & Dan Shannon have taken on veganising the Betty Crocker cookbook when PETA tweeted about their
Current Mood:

hungry