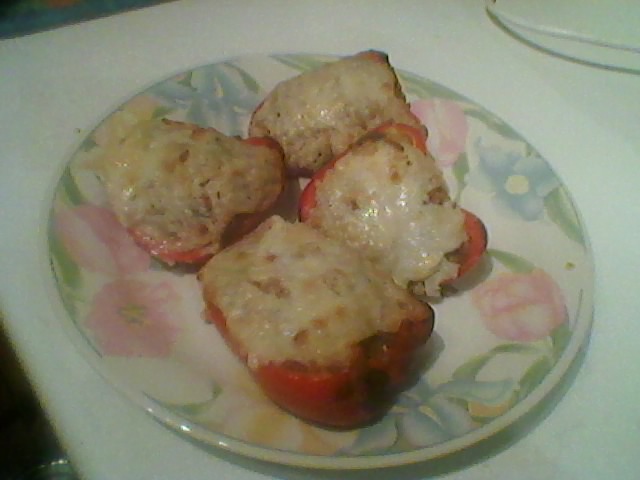 You'll need -
2 large peppers (I prefer red or yellow peppers)
Redwood's Vegi Deli Beanfast Pate
Couscous (seasoned with Free From vegan wostershire sauce)
Redwood's Mozzarella Cheezly blocks (melting)
Put your oven on 200 degrees C to heat up.
I had some left over couscous so I used what I had left. Mix the couscous with 120g of Beanfast Pate and an inch wide slice of Cheezly Mozzarella.
Once the filling is all mixed together cut the peppers lenght ways remove all the insides.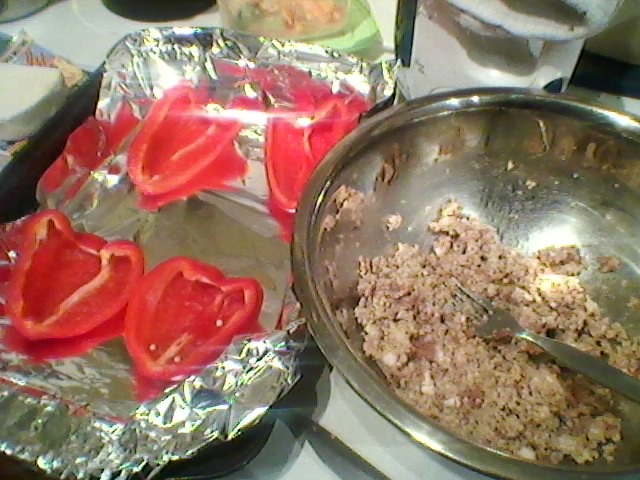 Spoon all the filling into the pappers press down to hold the mixture in place into an oven proof dish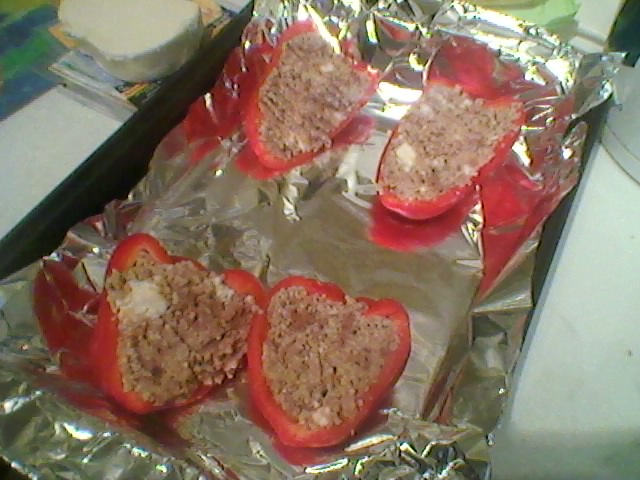 Thinly slice some mozzarella cheeze and put onto the peppers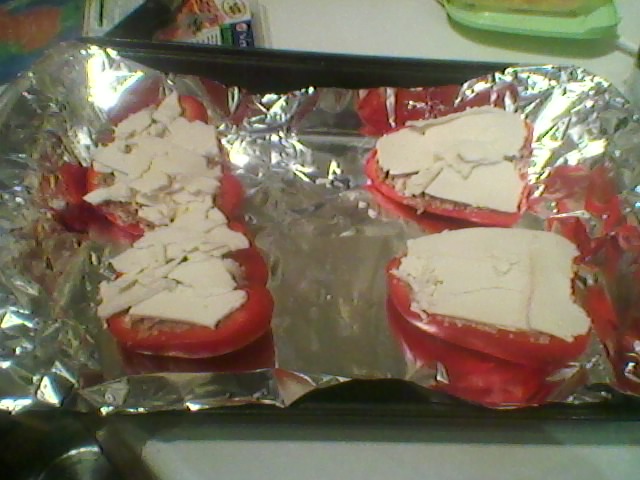 Place the pan into the oven and leave to cook for 20 minutes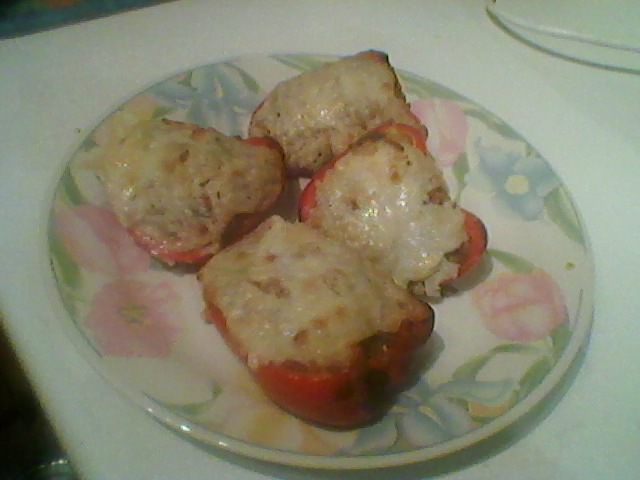 I was inspired to answer these questions by Keri from
I Eat Trees

1. Favorite non-dairy milk?
I'm not a huge milk drinker but I have soya milk for my cereals, hot chocolates and my cooking I use it alot in cooking
2. What are the top 3 dishes/recipes you are planning to cook?
Uhm I haven't I have no plan for my months meals I'm pretty much winging it for the month I want to try new products and new recipes so we'll see what I produce.
3. Topping of choice for popcorn?
I'm not a big popcorn eater but when I do get the urge I love slightly salted popcorn.
4. Most disastrous recipe/meal failure?
I haven't yet had a recipe go wrong but that's mainly because I just make them up as I go along. I have had the thing where I plan to make a meal but end up not making it because I don't have the time to make the dish so doen't get done.
5. Favorite pickled item?
I do't have one I used to love pickled onions I once had a huge craving for them but that was over 10 years ago haven't eaten them since.
6. How do you organize your recipes?
I don't! *lol* I pretty much wing it all but I do have a recipe book that's been my bible since I went vegan that I turn to for ideas but to be honest I don't use it much. Most of my recipes for my main meals are all in my head.
7. Compost, trash, or garbage disposal?
Most of my veggie waste goes in our compost bin we've had it for a couple of years now but any food waste goes to our dogs if it's something they can eat - which is nearly everything I make.
8. If you were stranded on an island and could only bring 3 foods…what would they be (don't worry about how you'll cook them)?
Tofu! I near enough live on the stuff plus you can make tons of things from it. Cookies - doesn't matter what kind I love alot of them my favs currently are choc chip peanut butter cookies. My final choice would have to be chips - unhealthy right? but I love a good chip especially with vegan mayo
9. Fondest food memory from your childhood?
My Mum's lasagne I have actually veganised it so I can enjoy it now but when I was a kid myfavourite dish was my mum's lasagne.
10. Favorite vegan ice cream?
Chocolate!! I love Swedish Glaze's chocolate ice-cream along with their blueberry and vanilla flavour too
11. Most loved kitchen appliance?
Other than the scales? I have to say my electric hand mixer
12. Spice/herb you would die without?
I have to say Nutmeg I use it all the time I love it with my scrambled tofu
13. Cookbook you have owned for the longest time?
Easy Vegan Cooking by Leah Leneman I've had it ever since I went vegan just over 16 months ago I couldn't live without this book
14. Favorite flavor of jam/jelly?
Strawberry I have a pot of vegan jam that everyone in my house eats and loves wouldn't eat another type of jam ever again.
15. Favorite vegan recipe to serve to an omni friend?
Peanut Butter Choc Chip cookies my whole family who are Omni love these cookies
16. Seitan, tofu, or tempeh?
For the moment Tofu I haven't yet made Seitan but it is something I plan on making this month.
17. Favorite meal to cook (or time of day to cook)?
I love to make scrambled tofu it's my comfort food that and cookies, cupcakes and muffins. I have to say my favourite time of day to cook is in the late evening I've been know to be baking at midnight before now
18. What is sitting on top of your refrigerator?
a few odds and sods . . . well we actually have 3 refrigerators one is under a cupboad, 1 has the cutlery on it and the other has spare kitchen roll, my electric handmixer and a few others bits and pieces.
19. Name 3 items in your freezer without looking.
Ice Cream, Tempeh and soy mince there is alot of non-vegan foods in there but we're going to un-earth the little freezer we have and I'm moving my foods out of there and adding more frozen foods so I'll have my choice for foods.
20. What's on your grocery list?
Soya milk, yeast flakes, peppers, salad bag and I don't know yet I haven't really thought what I'm cooking next week plus I need to check what I have in the fridge to see what I might need for next week to go with my seitan when I make it.
21. Favorite grocery store?
Holland and Barret ( I actually have a decent one that has a fridge/freezer) and my local health food store called Dimentions - oddly enough I had wondered what the store was when ever I passed it on the bus going into town
22. Name a recipe you'd love to veganize, but haven't yet.
I don't know I don't think there is I pretty much have already veganized alot of my old favourites such as my mum's lasagne and I've done my own version of mac 'n cheeze
23. Food blog you read the most (besides Isa's because I know you check it everyday). Or maybe the top 3?
I visit I Eat Trees the most as well as Meet The Shannons but most of my vegan news needs are met via Twitter where I get news from PETA, Farm Sanctuary, FARM, Thisdishisveg, IEatTrees, AJShannon (from Meet The Shannons), Ecorazzi, GirlieGirlArmy, eatingvegan and FindingVegan
24. Favorite vegan candy/chocolate?
I love mint chocolate as well as Twilight Bar, Jokerz Bar, Buccaneer Bar and Organic Choc Coconut Bar I love trying out new vegan chocolate bars
25. Most extravagant food item purchased lately?
I haven't really brought anything recently . . . well in a long time actually but my most extravgant purchase was last week on a cooking oil I can't remember the name of it but it's a healthier cooking oil that is better than olive oil as it retains all of it's goodness even when cooked.
Today's dinner was stuffed peppers.
Current Mood:

tired