Here is a photo of my dinner tonight. Redwood's Fishless fingers with a handful of chips and a salad topped with some vegan mayo.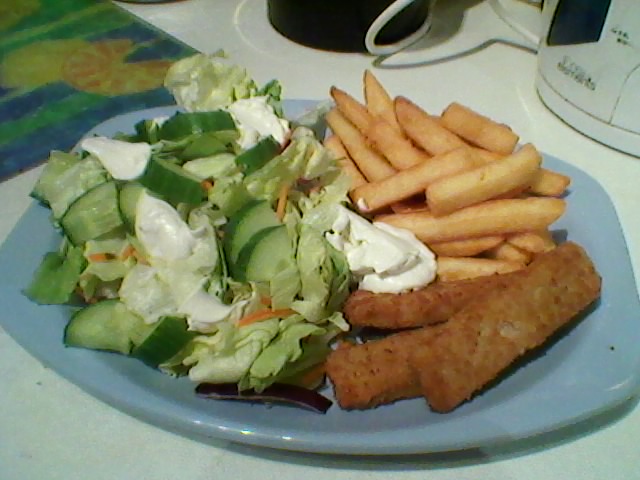 If you're a blogger, have you been a good little MoFoer? Have you been meeting the goals you set for yourself?
I'm new to the blogging business, well food blogging I only started when I decided to go vegan 17 months ago and, well I've been lacking in that department alot so I felt it was time to share more about my veganism especially since I've had a few people ask me more about my veganism of late so vegan mofo came at a great time for me and so far *fingers crossed* I've managed my goal of posting every day.
For those who weren't daily food bloggers, has blogging about food every day been overwhelming?
Surprisingly not, in fact it's inspired me to be more creative with what I make so I can share it with more people.
Have you been making your meals fancier or more put-together than usual simply because of
Vegan MoFo?
Nope I haven't done any of that I just plate it as normal but I have been thinking more about
what I want to make and/or try.
What new favorite blogs have you found through Vegan MoFo?
To be honest I haven't spent that much time looking at other blogs other than I Eat Tree's and This Dish Is Veg recently I've been more busy thinking of what dishes I want to create as well as having been flat out getting my house up together for a visit from my Grandfather and his future wife Marion.
What have been a few of your favorite posts from other bloggers so far this month?
Hard to say I have enjoyed the Your Thought's Thursday on I Eat Tree's this month but other than that I haven't really had time to really read or look at other blog posts other than skimming
them.
If you blog, what's your favorite MoFo post from your own blog?
Ah hard to say I think my seitan posts as well as my first post on a portebello mushroom very
proud of that dish. Also my replies for the Your Thoughts Thursday.
What, if any, blogger MoFo recipes have you tried? Have you marked any to try soon? If
there are a lot, which one is at the top of your list?
I haven't gotten that far even though we are half way through the month I haven't decided on
what recipes I want to try, however I really want to try a new cookie recipe soon!
Have you purchased anything, food or otherwise, this month because of a blogger
recommendation? Were you glad it was recommended?
I actually at the begining of this month brought wheat gluten to make homemade sietan on the
recommenation of Keri from I Eat Tree's and Daelyn from This Dish Is Veg so glad I did it will be a huge feature in my life from now on.
What new ingredients or techniques have you learned about?
I don't think there is really anything new I've learnt I do want to try Quinoa this coming week, I have tried Seitan and fell in love with it.
What Vegan MoFo giveaways have you entered? Have you won anything?!
Only the ice cream one on I Eat Tree's but I don't think the winners have been announced yet.
Do you know anyone who has been inspired to go vegan this month? Have you inspired anyone to make the change?
I don't think there is anyone who I've inspired to go vegan, but there is some intrest in my vegan meals a few people have commented on how nice my food looks and it's given them an insight into what vegan food looks like they are I think considering making the change but they aren't sure yet.
How much do you love Vegan Month of Food?!
Very Much it's actually given me the motivation I needed to share my veganism with the world.
I just want to reiterate that this is an open blog if you want to leave a comment just click on 'give some love' to comment.
Current Mood:

thirsty