samincittagazze
Basics
Name:
Sammy
Age:
26 (not for long my b-day is in less than 2 weeks)
Location:
Anglesey, Wales
Links to places you're at besides LJ (tumblr, facebook, twitter, pottermore, etc.):
I can be found on twitter, tumblr and facebook. Links are on my profile page, or alternately all under cleaninggirl I'm not sure if my tumblr is on my profile page nor not but just look for cleaninggirl ;-)
People/places/etc. you talk about in your LJ that I should know:
Family: My mum and my dad who both have health problems, my mum has been disabled for the last 13 years (since I was a teenager basically) she had massive blood clots in her leg lost the circulation in it and has a host of other problems with her leg as well as her weight and diabietes being an issue. My dad has CFS (Chronic Fatigue Syndrome) also known as ME he's had it for over 10 years but only diagnosed 2 years ago. I have 3 brothers Stephen who lives in Norway with his partner Maren and their son Conrad, Matt who got married this year to Bonnie (I don't think I told anyone on lj about that only my twitter people) and Dai who is moving to his house he's been doing up for the last 2 years with his partner Vicky and thier son my adorable nephew Braeden who turns 1 this week!!. I had 2 sisters but sadly in 1990 my younger of the two Sarah-Jane died from cancer at the age of 14 which leaves me with my big sister Nicky who lives in Scotland with her partner Cal (when he's not in China or Belgium that is as he works away ALOT but he's hoping to be at home more in a few months) and their 3 girls (there is 4 of them but the eldest lives with me and my parents) Sky(13), Poppyann(11) and Star(7) as well as my sister's chickens, the girls rabbits and their 4 dogs Sweep, Rowro, Lass and Buster. As I said the eldest Harmony(15) live with me and my parents and in 2 weeks will be starting her final year of secondary school (UK equivelant of High School).
Friends: The friends I mostly talk about here are my online friends or on occassion my BFF Hannah or Nic. Hannah I met in Secondary School we've been BFFs for 15 years this september and I'm godmother to her 4 kids George, Henry, Kaylen and Summer. I've known my other friend Nic for 16 years as her eldest daughter is the same age as me but we became really good friends years later when I was 18
'My babies': My cat Ragmar or as he likes to be called Ragtag or by the dogs your royal highness. My 2 boys Chocolate and Max.
Favourites
Colour:
Purple
Number:
1013 or 0447. Fangirl, what did you expect?!
Animal:
All of them pretty much. I'd love to have a pig like I did when I was little but we don't the space now with the dogs :(
Fandom(s):
I'm sad to say my love for Bones has taken over my other fandoms but I still love JAG and The X Files too. I'm also really into Castle, Army Wives, True Blood, Falling Skies, ER, Grey's Anatomy and Glee I used to love House but I don't know where I stand with it anymore =/ I also used to like SVU but now both Benson & Stabler are leaving I'm not going to watch
Character(s):
Temperance Brennan, Seeley Booth, Fox Mulder, Dana Scully, John Carter, Sarah 'Mac' Mackenzie, Harmon 'Harm' Rabb Jr, Bud & Harriet Roberts, Wendell Bray, Vincent Nigel Murrey(RIP), Olivia Benson, Elliott Stabler, Angela Montenagro & Jack Hodgins
Ship(s): Mulder/Scully, Brennan/Booth, Angela/Hodgins, Bud/Harriet, Benson/Stabler, House/Cuddy, Harm/Mac what can I say I'm a shipper whore I pretty much ship every ship they throw out on GA too
Either or...
cats or dogs:
Both. So there.
black or white:
black
rainbows or unicorns:
rainbows
tea or coffee:
Going against the norm for being 'British' I love Coffee!!
ninjas or pirates: I kinda have a thing for both but if I had to choose between the to it'd be Pirates *argh matey*
vampires or werewolves: I am enraged with the world and it's Vampire/Werewolf obsession at the minute. Buffy is the only thing in recent history that has done either with any style.
Favorite gif/final words/etc.:
Nothing happends first unless a dream.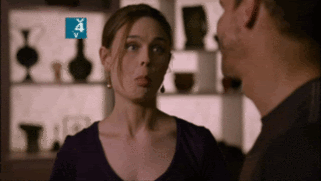 Gifs not mine but the ever lovely
_onebreath
Stolen from